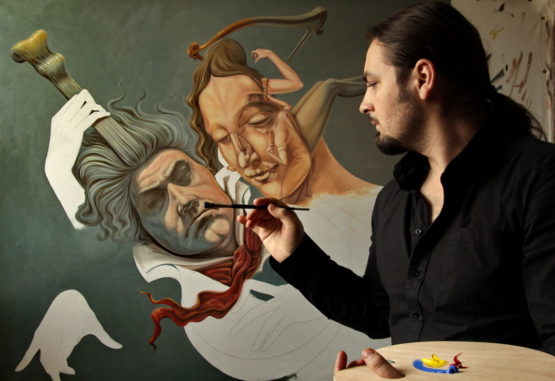 Iustinian Ghita is born in 1980 in Romania, in a family of painters. He currently lives and works in Munich, Germany.
His work can be found in private and public art collections and has been seen in numerous exhibitions around the world. As a painter, he denies much of his activity saying
that he only transited through reality to Surrealism, transfiguring and accepting the reality's illusions on his canvas. So, his latest endeavours reveal his path and his true identity.
Organic forms, a palette of vibrant primary colors and the use of optical illusion unites these paintings and gives them their unique signature style. They are teasing, provoking works that force you to reassess your ideas about both art and life. We are used to thinking in terms of likes and dislikes, when it comes to artistic creation. Some people are uncomfortable with paintings that are not purely representational. Others revel in the new and different. In the end it is all down to what you want to see on your wall: a familiar scene, portrait or still life that you can instantly relate to but which quickly becomes mere wallpaper, or a painting of such depth and complexity that you keep finding something new within it, no matter how many times you return?
Iustinian Ghita challenges the viewer beyond the usual contemplation of art and the common sensations or perceptions of the mind. From the array of symbols, inside a surreal world, the story unveils itself through an optical illusion.
"After so many years of ignorance at least now I can see the illusions.."